Headlines
All Saints' Day celebrated November 5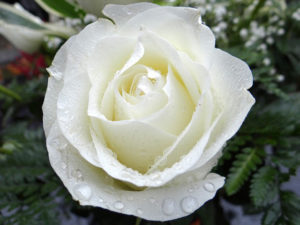 On Sunday, November 5, we observed All Saints Day during worship. All Saints' Day is a universal festival of the church. This festival day directs our attention to the richness of Christian history and the varied experiences of the grace of God by lifting up the lives of the saints. All Saints Day celebrates all the people of God, living and who have moved to "More Life," who together form the mystical body of Christ.
Below are the names of the members and friends of First Presbyterian Church of Farmington who have "Moved from this Life to More Life," been confirmed or baptized this past year.  We remember them in our prayers today, and we give thanks for their lives.
Moved from this Life to More Life
Donald Barth, John Carmichael, Jan Dolan, Marian Ford, Irene Foster, Wilma Gallanis, John Hawkins, Amy Kleinschmit, Henrietta Latimer, Joanne Nall, Josephine Pogue, Dorothy Sauter, Carol Stevens, Rev. Dr. Paul Sutton, Ruth Wiens.
Baptized
Evelyn Karen Segnitz
Craft Fair offers early shopping opportunity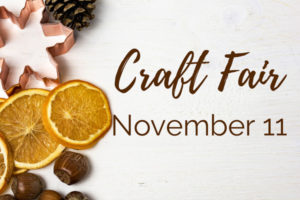 This year's Craft Fair was opened to outside vendors. So, anyone who loves to do crafts, make jams, jellies or salsas, or bake holiday treats will be offering a wonderful array of gift ideas. Check out the Craft Fair this weekend – proceeds support our music ministry. The Fair is open Saturday, Nov. 11 from 10 am. – 4 p.m. and Sunday, Nov. 12 after worship until 4 p.m. Be sure to stop by Knox Hall for Hospitality Time on Sunday and for an early start to your Christmas shopping.
Consecration Sunday celebrated
Last Sunday, Nov. 5, the church celebrated Consecration Sunday – a day when we presented our pledge cards and re-committed our lives to the ministry of First Presbyterian Church of Farmington. We are grateful that you joined us – whether in person or in spirit and prayer – making the event the success it was.  Some 150 members and friends of the church joined in the festivities. We are grateful for what you already have done. If you haven't already, please take a moment to complete and return your pledge card.
Giving to others is such a joy. Your gift matters – it matters to you as the giver, and to the church, which utilizes it as a resource for mission. Please keep First Presbyterian Church of Farmington in your prayers as we, together, move towards discerning what gifts we will make in the coming years.  Thank you!    Consecration Sunday Team
Deadline for articles for the December FYI is Wednesday, November 15!
News from Christian Education and Nurture
Greetings!
I have just returned from the GLAPCE (Great Lakes Association of Presbyterian Church Educators) annual regional gathering in October at the Geneva Center Retreat and Conference Center in Rochester, Indiana. It is always a time of spiritual renewal and refreshment for me. This year's theme was "We Belong Together," based on 1 Corinthians 12:27: "Now you are the Body of Christ and individually members of it." Our keynote speaker was Anne Wilson, the past president of APCE (Association of Presbyterian Church Educators), who related her personal story of her mother's internment in a camp for Japanese-Americans during WW II. Anne also spoke of the importance of solitude, hospitality and community in our faith lives. Other workshops focused on welcoming and supporting those with special needs, mental illness and members of the LGBTQ community. We also enjoyed community building activities, mission activities as we filled and delivered six emergency clean-up buckets with supplies to Church World Service in support of hurricane ravaged areas, and Sabbath and worship time. It is my hope that we can continue building on this culture of hospitality and welcome here at First Presbyterian Church of Farmington!
I also submitted my Christian Educator Certification Exam to the PC(USA) for review on October 18 – after three years, six classes, and five months of writing and researching the capstone thesis and exam, which included designing and teaching a course to our 9 a.m. Sunday Adult Education class. I should learn of the result around Thanksgiving. Pastor Eddie and Elder Deb Lum served diligently on my reference group. Thank you for your support and prayers!
Yours in Christ, Joshua Archey
Join Pastor Eddie on Tuesday mornings at 10 a.m. for a study of the Confessions of the PC(USA), including our newest Confession, the Confession of Belhar, or on Sunday mornings at 9 a.m. with Rev. Dr. J. Harold Ellens and Rev. Craig Aue. All are welcome!  Those session end on Nov.19. The Advent series begins on Nov. 28 on Tuesdays for four weeks in the church library. This faith formation study will explore the sublime musical expression of the African American spirituals and their profound insights into the human condition and Christian life. The series is based on Luke Powery's Rise Up, Shepherd! Advent Reflections on the Spirituals.
Youth in grades 6-12 and adults are invited to join us in helping our church friends clean up their yards on select Saturdays in November. Please contact Jan Dennison or Josh Archey if you can help!
On Saturday, Dec. 2, join your church family in decorating our church for the Christmas season. There will be hands-on activities and crafts for children. Join us!
Upcoming Fellowship and Outreach Opportunities
Check out Men's Saturday Breakfasts
November 11, 2017 at 8:00 a.m. in Knox Fellowship Hall
Speaker is Tom Neal presenting on Grand Rapids Art Prize 2017
December 9, 2017 at Rosedale Garden, Livonia
Men's Presbytery Advent Breakfast
Speaker is Chris Lambert, Executive Director of Life Remodeled
Boy Scouts' popular Christmas Wreath Sale on Nov. 19
The Boy Scouts of Troop 179 will hold their annual Christmas Wreath sale before and after church on Sunday, Nov 19. The 12″ wreaths (typical front door size) is $25, and the slightly larger 18″ wreaths are $35.  Additionally, cedar roping is available for $25 for a 25′ length.  Larger wreaths may be ordered.  If you are unable to be at church on Nov 22, contact Lisa Hayes, and she'll have a scout deliver your order.
 Nov 19 – Dec 10 is Hat and Mitten Tree time!
With cold weather just around the corner, it is time for our church's Hat and Mitten Tree collection. From Nov. 19 until Dec. 10, we'll be collecting hats, mittens, underwear and socks (no scarves, please) for needy children right here in our own community. We will also be collecting adult sizes of hats, scarves and gloves as their need in our area is ever present during the colder months. Your new items should be placed on or below the dowel tree in the narthex. Please leave price tags on.  Thank you in advance for your generosity
Thanksgiving Community Service on Nov. 20
First Presbyterian is pleased to be hosting this annual interfaith worship service on Monday, Nov. 20 at 7:30 p.m. Representatives from a variety of houses of worship and community groups affiliated with the Farmington Area Interfaith Association will be participating. A community choir under the director of Dr. Jerry Custer will be singing, along with a children's choir. Be sure to join us for this inspiring multi-cultural worship service and help us welcome worshippers from throughout our community.
Second Mile Center Opportunities
Thank you to all who donated food for the Second Mile Center Thanksgiving baskets.  If you would like to help to provide perishable items for the baskets, please write a check to SMC or donate a gift card to Kroger, Walmart or Target.   Ginny Hubble and Sue Carlson are collecting these.  Also, Ruth Azar is preparing a list of SMC children who will be receiving Christmas gift bags.  If individuals, families or groups would like to sponsor a child (suggested value of $65, with gift suggestions provided) or make a donation, please let Sue or Ginny know.  The bags will include a shirt, pants, underwear, socks, and a toy requested by the child.
Faith Formation – Advent Devotional Studies Nov 28-Dec 19
Come and join us Tuesday mornings at 10 in the Library for four weeks and explore the sublime musical expression of the African American spirituals and their profound insights into the human condition and the Christian life. Many focus on an essential scene of the Christian drama: the coming of God as the child in Bethlehem and as the hope of the world and the liberator of God's oppressed people. Rise Up, Shepherd! Advent Reflections on the Spirituals written by Luke Powery leads the reader through the spirituals as they confront the mystery of incarnation and redemption. Each devotion features the lyrics of the spiritual, a reflection on the spiritual's meaning, a Scripture verse, and a brief prayer.
Save the Dates: Tuesday mornings beginning November 28 through December 19.  Order your devotional for $8.45.
Hanging of the Greens on Dec 2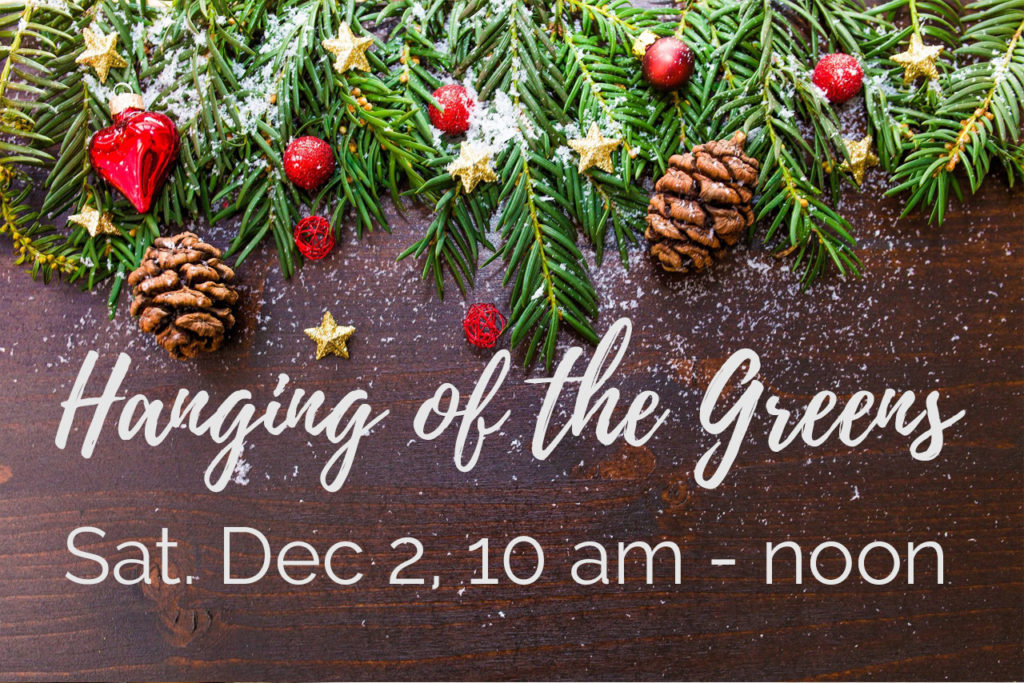 We invite family, friends and neighbors to help us decorate the church and prepare the church, our hearts and lives for the Advent season. Join us from 10 a.m. – 12 noon on Saturday, Dec. 2 for our annual Hanging of the Greens, including light refreshments and good fun!
Mark your calendars for the Dec. 4  Christmas Gathering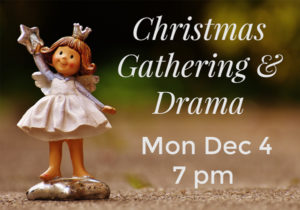 Join us for "Joy, Hope and Peace," a Christmas Gathering, is Mon., Dec. 4 at 7:00 p.m.  This is a festive evening of refreshments, music and pageantry including a short play, "The Mission," performed by our own Presbyterian Players. The ten angels of the Search and Rescue Committee in heaven are on a mission: find Jesus!  This annual special event, sponsored by PW, is open to everyone.  Tickets ($3.00) will be on sale in mid-November.
.
Have Box Tops for Education at home?
Please cut them out bring, them in and put them in the collection box for Hillside Elementary School.  Each box top coupon is worth 10 cents for Hillside educational programs.  With just a little effort, we can add significant financial to support our adopted school.  Look for the plaid box in the Narthex and add your 10 cents!  If you have any questions, please call Martha Countegan.
Congregational Concerns
Conversations with the Pastor returns
On Sunday, Nov. 26, we will resume "Conversations with the Pastor." Join Pastor Eddie in the sanctuary following service for an opportunity to ask questions and discuss issues of importance to our church. "Let's be good companions of The Way and together discover what the fruit of the Spirit looks like."  (Galatians 5:22-23). We will do this on the fourth Sunday of each month.
Hunger Ministry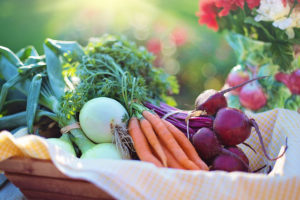 Many thanks to all involved in making our hunger ministry for fresh produce another successful year. We donated a total of 525 lbs. of fresh produce to C.A.R.E.S. Food Pantry in SW Farmington Hills (the former St. Al's Food Pantry). The harvest came from three sources:  our own rebuilt container gardens, produce grown in our congregation's home gardens, and other produce lovingly selected from farmers' markets and neighborhood stores.
A special thanks to Sharon and Mitchell Cressman for tending the garden, harvesting the veggies and delivering them weekly to C.A.R.E.S.  Also, accolades to the watering team. The tank ran dry but was refilled once the rains came. Jeff Ely is now making plans to winterize the rainwater collection system. Mucho congratulations on a job well done.
Where's Pastor Eddie?
Pastor Eddie and Pam will be traveling to a family wedding the weekend of November 18-19.  Sunday's worship on Nov. 19 will be led by Rev. Craig Aue.  If you have a pastoral need over that weekend, please contact Craig. The last week in November he also will be traveling to Puerto Rico to visit his family there and witness first-hand the recovery efforts underway and assistance needed as a result of the recent hurricanes that have caused extensive damage to the island.
Advent Candle Lighters Needed
The Worship Ministry Team is asking people to sign up to be Advent candle lighters for the four Sundays of Advent:  Dec. 3, Dec. 10, Dec. 17 and Dec. 24, as well as the 4:30 pm. service on Christmas Eve, Sunday, Dec 24. Please sign up on the kiosk or call the church office at 248 474-6170 if you would like to participate.
Bread bakers wanted
The Worship Ministry Team is seeking communion bread bakers.  We have a good recipe that has been fine-tuned over many years by Marcia Howe.  You don't need to be a great baker to make it, as the bread recipe is easy.  Now that we are serving communion on the first and third Sundays of each month, we have a greater need to add more bread bakers to the communion team.  Please contact Pam Jusino for details.
Check out the church's Facebook Page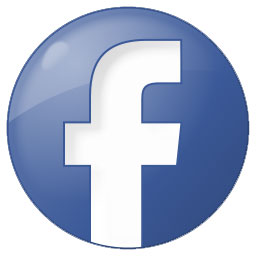 Sometimes it is hard to get the word about a good event to those we do not see every day.  In the past we have used the U.S. mail, made phone calls and shared when we saw people while we are out and about.  Those remain excellent ways of sharing but, in today's world, spreading the word happens more and more frequently via social media.  Not everyone is involved in social media so if calling your friends and sharing the word when you see folks is your way of communicating that is great – just please do it.
For those of you who use Facebook, if you have not "liked" our church page, please go to https://www.facebook.com/FirstPresbyterianChurchofFarmington/ and click the "like" icon. Once you have "liked" the page you will receive interesting church news including notice of our Craft Fair, which has been posted as an event. You may have to scroll down to find the original post.
You can help the Craft Fair be a success even if you are unable to attend.  Please "like" the event AND then "share" it to your timeline!  Just remember, Like and Share!
Hospitality Opportunity
There are plenty of opportunities to host our Hospitality time following worship.  A sign-up sheet is available on the kiosk to record your generous willingness to host and assist in reinforcing our welcoming presence to friends old and new.
From the Mission Committee
October is Mission Month and your Mission Team was busy as usual.  Thank you all for your encouragement and especially for your enthusiastic support of the Mission Fair on October 15.  More than 30 organizations supported by our church, either by our mission efforts or by Presbyterian Women or by both, were represented.  Many of you commented that you enjoyed meeting representatives from the organizations.  We hope everyone came away with new information about our mission outreach and felt good about our efforts to make a difference.  A huge thank you goes to Linda Clew and Emily Davis for pulling this Mission Fair together!
C.A.R.E.S. (formerly St. Al's) is beginning the dream of bringing most any resource needed by anyone in the Farmington/Farmington Hills community under one roof.  Our church has supported St. Al's food pantry for many years.  We continue to provide fresh vegetables during the growing season and canned and packaged food throughout the year.  For Thanksgiving we will provide a list of the grocery items so that we can purchase the requested items for Thanksgiving meals (we'll post the list on our website and in the bulletin as soon as we receive it).  In October we sent C.A.R.E.S $1,000 for them to use as they see fit.  Our intention is to help with overhead expenses like electricity, believing that all religious organizations will want to ensure their continued ability to serve the community.
We sent another $600 to Fort Street Presbyterian 's Open Door program in October.  If you would like to support their outreach to provide meals and clothing, please see Jan Sell to join her and others from our church on the fourth Thursday of each month to drive down to this beautiful, historic church and share in this vital outreach ministry.
The Gleaners also received $500 from our church in October.  It was great to have Justin Hiller from the Gleaners speak to us in early October.  He talked about a new nutrition program the Gleaners is implemented to teach people how to provide nutritious meals for their families.
Stephen Ministers share resources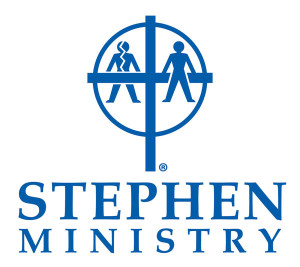 Do you know our Church Library contains several books that are helpful during life's challenging times?  One such book was written by John Ricco.  John, a resident of Farmington Hills, is a cancer survivor who has written what he has learned into a book entitled "The Ride of Your Life:  Fighting Cancer with Attitude".
In the book, John explains how we each need a "tool kit" to help us get through a cancer diagnosis, treatment and life as a survivor.  (This "tool kit" could also be used for any of life's challenges.)  He believes that his diagnosis of cancer was a gift…it has been a chance for him to change and refocus his life.  It has been an opportunity to grow in his faith and his relationship to God.  He has been able to go through this seven-year journey with an amazingly positive attitude.
John also shares very practical tips regarding doctors, support of family and friends and becoming aware and involved in support groups.  All of this is done using the metaphor of bike riding; a hobby of John's.  It's an easy book to read with many great ideas and things to think about.
If you have any questions regarding Stephen Ministry, please contact Pastor Eddie, Helen Thomas or Lois Caito.
Sermons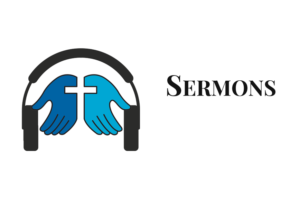 After a brief absence, you can again listen to Pastor Eddie's sermons via our website.  Just go the http://farmington-pres.org/sermons/ to listen or to share with a friend.  Your website and communications committee continues its work to improve our communications with each other as well as with newcomers.  Your comments and suggestions are always welcome.
Can you volunteer to drive?
Occasionally we need volunteers who are willing to drive church members to medical appointments. While the majority of our members are able to arrange for their own transportation, some cannot. That's where you come in! The Deacons Transportation Committee would like to have a list of drivers and phone numbers of those who are willing to help occasionally. Once we have this list, we will make it available. Sign up on the list on the narthex door or contact Dave Carlson or Mary Carson.
October Session Meeting Highlights
At its October 18 meeting, the Session:
Treasurer Irene Sharpe reported that the outstanding balance on our building loan was $210,093.87 at the end of September.
Approved the Amendment to Resolution Establishing First Presbyterian Church of Farmington Endowment Fund.
We keep in our prayers
(Names withheld from the web-version of our FYI)
Members and friends who are ill; and prayers for the grieving:
We also remember members who are homebound, in nursing homes, and assisted living, and those serving in the military.
Kudos & Thanks
Kudos to Michael Barconey, the Presbytery of Detroit's new Coordinator for Hands-on Mission. Michael has accepted the position to help local congregations become involved in hands-on mission to the metropolitan community and to their own community. He has participated in hands-on projects for youth, and is available to preach in churches throughout our Presbytery. Michael is a senior at University of Detroit Mercy, where he's been an honors student. Michael is an elder and fifth generation Presbyterian. He has seen first-hand how Christ blesses both the volunteer and the mission partner. For more information on how you can serve those around you and invite others into mission, contact Michael at michaelbarconey@detroitpresbytery.org.
Dear Friends, Each year we travel to the USA to meet as the board of YPM and to analyze the growth, strength, unity, vision and reach of the organization. This September 16 we began our third two-week trip, and with each trip we have seen the growth of the organization. This is reflected in the projects achieved such as the University, the integration of new members into the work team, the finished projects such as those of the Northminster (Peoria) church building churches in the communities of Tres Reyes, Nuevo Durango and Nuevo Xcan, the unity of the members who make up the boards of directors of both YPM Mexico and YPM USA and also the impact of these benefits in the Maya area of the state of Quintana Roo.
There is much to tell, and there is still more, but the important thing in all of this is that in each experience lived where God has placed us, God uses each person and provides the things that will teach us and contribute to our good as we carry out our mission. There is nothing that comes to you without this purpose, because God has clear and specific goals for you and for me. He never forgets what He wants for you.
With this thought I give thanks to God and to each of you for giving us the opportunity to equip ourselves enough to continue with our ministry, and we are looking forward to our next trip. Thank you for your donations to buy what is needed at the Base
May God bless each of you in all things. This is our desire. Wilian, Erly and Andre
News from Samaritan Counseling Center
Samaritan Counseling Center is excited to announce the following addition to our staff:  Shazia Siddiqi, MA, ATR-BC, LPC – Clinician in Samaritan Counseling Center's Nardin Park UMC office.
In Memorium:  It is with deep sadness that Samaritan Counseling Center acknowledges the passing of our dear friend, former SCC Executive Director Robert Martin.  Bob joined the SCC clinical staff in February of 2008, and served as executive director from 2012 until his retirement in 2016.  Bob's compassion, curiosity, whimsy, dedication, and tenderness continue to send ripples of hope and healing into the future of the lives he touched directly, and into the community he served.
Upcoming Event:  Square Dance Fundraising Event
All proceeds from this fun-filled, family event will benefit the Client Assistance Fund.  Light refreshments and beverages will be provided.
Date:             Sunday, November 12, 2017     Time:              2:00-4:00 p.m.
Location:    Nardin Park United Methodist Church / Mercer Hall, 29887 West Eleven Mile Road, Farmington Hills
Cost:             $15 per person, or $50 for a family of four or more
Further information can be found on Samaritan Counseling Center's website at sccmich.org.