Welcome to First Pres!
To get a feel our Sunday morning experience, check out our Worship Experience page. Here's some other information you might find helpful:
Our office hours are 9:00 – 4:30, Monday through Friday.  We are closed on holidays and other occasional days throughout the year.  These days will be marked on our calendar and in the weekly update in our bulletin.
Park on the west side of the building [view map] and enter through the far left door under the covered portico. It has a blue handicapped access sticker on it.  On weekdays, if you find the doors locked, just push the doorbell-like buzzer in the middle of the four doors.  Our secretary will electronically unlock the door for you.
As you enter our lobby, you'll find a whiteboard with room assignments for the days' activities.  If your activity or meeting is not listed, ask in the church office, which is on second floor at the end of the hall.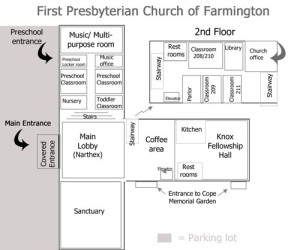 From the front lobby, you'll find the stairs by heading straight back through the first set of double doors. The stairs are on the left and an elevator is just a little farther ahead on your right.