Connect & Learn
At First Pres opportunities for learning and connection are a part of what we're all about. As we walk our walk of faith together, we learn as we connect and connect as we learn. Drop-ins are welcome at any of these gatherings.
Sunday Adult Education Classes meet prior to worship at 9:00 a.m. on Sunday mornings in the library. This class offers thoughtful conversation and calls to live out a life of faith.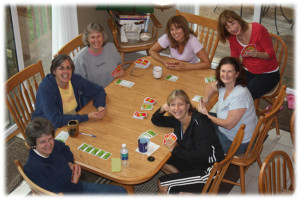 Women's Circles meet monthly for Bible study, discussion, and fellowship. These groups form the Presbyterian Women group of 1st Pres. We have seven active circles for all ages, including evening circles. Four times a year all our circles meet together in church-wide gathering. All circles welcome new members.
Music Groups at FPCF also offer opportunities to connect with God and others while you learn. All accept new members. Look them over and see if there's one that appeals to you.
Our Adult Mission Group practices their faith with hands-on missions both locally and throughout the USA.
Tuesday Morning Study Group takes place each week from 9:45 – 11:00 a.m. and is led by our pastor.
JOY Book Study meets at 6:30 p.m. on Wednesdays for lively and thoughtful discussion of books related to faith practices and deepening our spirituality.
Men's Fellowship Group provides time when men gather for fellowship, recreation, and spiritual growth via an annual retreat, frequent breakfasts, and field trips.
Infinite Variety Club is for retired members and friends which meets the last Wednesday of each month at noon for lunch and a program or outing.
Other groups that meet here: